Works
THE GATE HOTEL TOKYO by HULIC
1Property2Planning
Began operation as the second hotel of the brand, after THE GATE HOTEL KAMINARIMON in December 2018 and located on the 4th floor through the 13th floor of the "Hulic Square Tokyo" which is facing Harumi-dori street and directly connected to the Ginza Station of Tokyo Metro.
Sakia Hospitality has been engaged in the form of basic concept development, designer selection, basic blueprint composition, business plan development including commercialization, and supported all preparation activities including visual identity, pre-opening marketing, and hiring. Following the opening, we have continued its management under management contract.
THE GATE HOTEL TOKYO by HULIC – Amid the bustle of Tokyo, find a hotel where time passes gently. Open the door, and let the quietude commence. Designed for the connoisseur for the good things in life.
The design concept of the hotel is "attractive aura and smartness," expressing "always new culture" and "consistent values" respectively. The place everyone can beautifully be him/herself feeling a connection to outside and passage of time through its interior.
The hotel provides lobby and restaurant in an elegantly liberating open area with high-ceiling and windows as well as 164 guestrooms. The terrace seats are available for not limited to staying guests, feel and enjoy the day-and-night bustle of Ginza and Skiyabashi. One of the attractive points is the premium lounge on the 13th floor for the exclusive use of staying guests.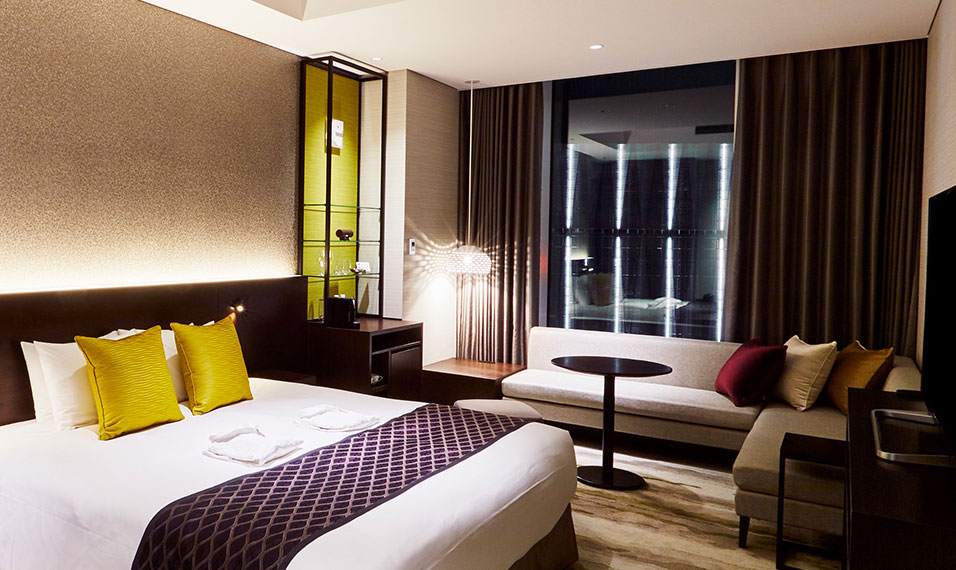 Hotel Data
Hotel Name THE GATE HOTEL TOKYO by HULIC
Opening Date December 14, 2018
Number of Floors 13 above ground and 2 basements (Hotel is floors 4 to 13)
Parking None
Property Dimensions Site area – 1,530 square meters Total floor space (hotel only) – 9,100 square meters
Guest Rooms 164 rooms 1 The Gate Room/73 ㎡, 14 Luxe Rooms/42-52㎡, 1 Canopy Room/44㎡, 83 Classy Rooms/24-36㎡, 59 Essential Rooms/24-26㎡, 6 Modest Rooms/20㎡ Other: Restaurant & Bar, Teppanyaki Restaurant, Lobby Terrace, Rooftop Terrace, Premium Lounge, Gym